​Innova ( Hiregenics/Volt Consulting Group) is an award winning global talent solutions expert committed to taking businesses forward.
With a proven 20 year track record of managing workforce strategies for leading organizations in over 30 counties, we help clients revisit the way they source and manage their workforce, to ensure they have access to the best talent when they need it. Navigating through change and market fluctuations, Innova delivers results that help grow your business while controlling costs, mitigating risk and ensuring compliance.
Whether you are looking for a Managed Service Program (MSP), Services Procurement (SOW) Direct Sourcing, Recruitment Process Outsourcing (RPO), or Payroll or Referred /IC Management, Innova Consulting Group has the capability and experience to provide a solution tailored to your organizational needs. We take the time to understand your business and develop a solution that will solve your business challenges, creating an agile approach that will bring innovation and evolve as your needs change.
Having successfully implemented more than 120 programs worldwide, organizations can confidentially rely on Innova to architect, handle the change management of and deliver their total workforce strategy. Innova drives value and delivers workforce agility by providing businesses with the people, processes and technology that achieve their strategic objectives.
Our Client specific solutions are put in place to address your talent needs, improve quality, and increase speed to hire. By leveraging our network of over 1,400 suppliers globally, we are able to optimize your supply base and meet any diversity and inclusion initiatives. We place value on our supplier network and spend the time mentoring them and staying focused on their success so they are committed to meeting the needs of our clients.
Innova Consulting Group manages the complete lifecycle from talent planning, sourcing to assignment on/off boarding, removing the administrative burden for our clients, allowing them to focus on their core business. By utilizing robust analytics and industry benchmarks, Innova is able to make informed decisions and recommendations, focus on continuous improvements and improving stakeholder value.
We are committed to exceptional client experience, resulting in an average client tenure of over 14 years. We continue to partner with our first MSP client, a leader in the telecom space, on-boarded in 1997. Our white glove, hands-on approach is one of the keys to this success. In an ever changing talent landscape, Innova can offer you the security of knowing you have a solution in place that will be able to quickly address changes in your business, in the economy and in the world we are living in today.
Our Solutions:
Managed Service Programs (MSP)

Total Talent Management (TTM)

Statement of Work (SOW)

Recruitment Process Outsourcing (RPO)

Direct Sourcing

Payroll, Referred

IC Management

Workforce Consulting/Advisory Services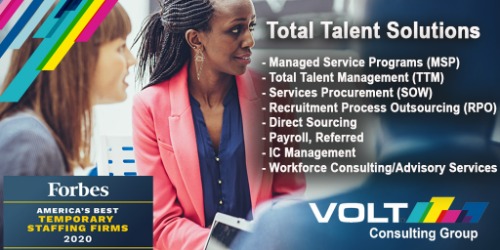 ​